The Hamner Home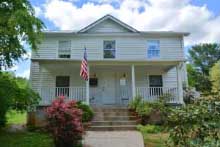 The Waltons Home and home of Earl Hamner, Jr. in Nelson County. $249,000.
Virginia Historic Home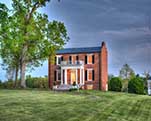 Historic Virginia Home on 131+/- acres in Fluvanna County. $1,285,000.
Virginia Historic Log Home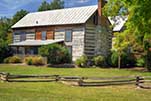 Two old log cabins built into one amazing home. Tucked into a private valley in the Shenandoah Valley. Offered at $2,150,000.
Charlottesville, Virginia Historic Homes for Sale
Charlottesville, Virginia and its surrounding countryside offer a multitude of older and historic homes ranging from charming in-town properties to grand estates tucked into the rolling hills of Virginia's piedmont region. Charlottesville Historic Homes.com is updated nightly so that you can be assured of viewing only the most current listings of Virginia's antique homes for sale. Visit often, or ask us to e-mail you the latest Charlottesville Historic Homes inventory as it is updated! It will be our pleasure to keep you informed via e-mail of the older homes in and around Charlottesville as they come on the market.
As you browse through the Charlottesville area listings, you will notice Albemarle County's most celebrated architect, Thomas Jefferson, continues to influence the architectural style through out the central Virginia region with many Classical Revival homes. In addition to Mr. Jefferson, the Universtiy of Virginia's School of Architecture has produced many great architects that made their place as well in the history of homes throughout the Charlottesville, Virginia area. Almost all architectural styles are represented in the Charlottesville area with the exception that there are very few Victorian homes . But you don't have to travel far to find a town with Victorian gems, as Staunton, a 40-minute drive west of Charlottesville, abounds with Victorian Homes!
If you are thinking about relocating to the Charlottesville, Virginia area, we will be happy to send you our relocation packet to help you learn more about our beautiful area!
White Horse Farm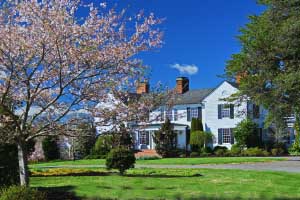 Lovely restored and expanded Albemarle County farmhouse on 278+/- acres offered at $2,500,000.
Powell-McMullan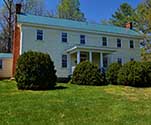 Virginia historic home in Greene County's beautiful South River Valley. Frontage on trout stream! $289,000.